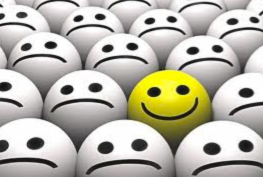 Most people have experience a season when they were not satisfied at work. Maybe it is caused by a project you are not excited about, a co-worker that is difficult or possibly your general health is down. Regardless of what it is, the result is lower job satisfaction and a lack of joy at work which become a downward cycle. No one wants to stay in this place, so here are some strategies to turn that situation around and reclaim your joy.
Discard the "Grass is always Greener" view
One of the things that can steal our job joy is looking out at other jobs or situations and thinking the grass in greener elsewhere. There may be some truth to that but remember that every job and company has its issues. It is important to remind yourself of that and focus on what is, not what isn't. If you can do that, you will have already taken the first step to reclaiming your joy. You will also be able to identify what is taking away your joy which allows you to better achieve success in turning it around. As you look at those things, you can then determine, what is temporary, what is possible to change, and what you will continue to exist and you will need to work with.
When you have identified those things which are issues at work, see what you can do to change them. If there is an environmental issue such as the office temperature, or space configuration, see if it is possible to make a change. If the issue is one of duties, maybe there is a duty you wish you didn't have or one you wish you did, talk to your supervisor to see there is a possibility to either gain more experience in the duty you want or trade duties with someone to reduce the task that is frustrating. Not every manager will be open to conversations such as these but a good manager recognizes the benefits of a happy employee and if there are changes within their power to make, a good manager will work with you.
Find a professional growth activity
As Albert Einstein said, "The day you stop learning, you start dying." We all need to be learning and growing and being active in professional growth can help recapture your joy at work. Maybe the opportunity is at or through work but there are many opportunities for professional growth outside of work. In the Learning and Development industry, you may look for a local chapter of the Association for Talent Development (ATD) or the International Society for Performance Improvement (ISPI). These are just two of the many great organizations that have opportunities for professional growth through local meetings, online webinars, and research papers.
Do something to affirm a co-worker
One of the great ways to find joy is to give it. There are lots of ways to affirm another employee but consider writing a handwritten note to another employee recognizing their strengths and how they impact your work or environment at the company. Douglas Conant, former CEO of Cambell's made it a practice to write handwritten notes to employees every week as a part of developing a new culture that turned the company around. Just doing something positive that benefits a coworker will help you focus on the positives of that person and reclaim joy.
Identify ways that you make an impact
As a part of reclaiming your joy at work, make a list of the activities where you have made an impact at work. This may be specific projects you worked on that were successful, people that you helped or trained to be more effective, or ideas that you have contributed to help the company as a whole. As you make this list, you are affirming yourself and taking away the power of other things and people to take away your joy.
These five strategies will help you reclaim your joy at work. Things will never be perfect, but they will be better. And if for some reason you decide that you need to make a job change, each of these activities will have helped you with that process as well, from trying to work with your current employer to resolve the issue, networking through professional development, making sure when you leave you have left a good impression and left on good terms, and identifying those strengths that you have to offer your future employer.
Looking for some more information on these ideas, check out some of these links: