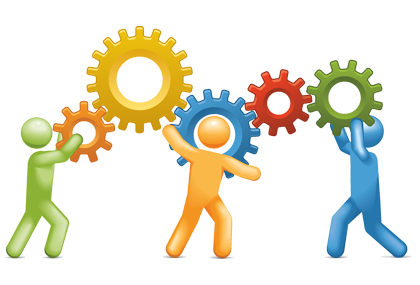 Whether you are building a project team, a department, or starting a new business venture, building the right team is essential to success. Ultimately, you are building a team that will be able to create and influence opportunities, a team that will have a global view and yet be able to focus on details. The beauty of a team is that you don't have to have all of these things in one person, but in the combination of people you bring together.
So what are you looking for in a team?
Shared Passion – You need to bring together people who share a passion for the goal to be accomplished. This might be a project team that will be visioning and developing a company enterprise system and you want to bring together people who have a passion for connecting people, developing culture, and bringing together resources to increase productivity. This might be building a Talent Development department and you want to bring together people who are passionate about helping people improve their performance. Regardless of the purpose of the team, you want to find people who have a passion for the goals.
Strengths – You need to find people who have honed their strengths. If the goal is to move things forward, you need people who have identified their strength(s) and are honing them. These people bring not only that strength to the table but experience and commitment to developing expertise. If you want to create an opportunity, you need people who have a demonstrated ability to set goals and achieve them. Ideally, the strengths people bring will relate to the goals to be achieved or the perceived tasks that will be necessary but don't discount a person with strengths in a different area. You may find that the unrelated strength becomes the seed for innovation.
Differences – You need to bring together people who are different. Bringing together different people will help the team to better identify patterns and see the systems that are relevant to the goals of the team. On a project team, you need to include stakeholders in addition to team members that are expected to drive implementation.
Why is this important?
When you build you team based on passion, strengths and differences, you are setting yourself up to identify the different systems you will encounter, the roadblocks to the goals, and the solutions to drive success.
Developing a team that can see the forest and the individual trees is developing a team that will be able to both vision and implement. This team will be able to see the interconnectedness of the company and who will be impacted by a project and how that impact will play out. A team that represents differences will more successfully identify the fundamental issues and forces that come into play and how they relate to one another. If you can identify these and represent them together, you will be able to see the system(s) at work and identify roadblocks to your goals and identify the places of influence.
Launching a new program such as a new induction training program to a company is going to face roadblocks. You need to be able to understand all the ways this new program will interact with the company. This may interact with how employees spend their time, what goals it helps them achieve, company culture, just to name a few. With that understanding of where it connects, you can identify the roadblocks, whether they are environmental or attitudinal. Looking at the system of implementation and roadblocks, you then are able to identify points of influence and see how you can strategically manage those to optimize success.
Bringing together a team with passion is a team that will have the dedication to persist to success. Bringing together a team of people with strengths means that those people will have credibility and can be influences. Bringing together a team of differences means that the team will be able to identify the fundamental parts of the systems involved, the potential roadblocks, see where the points of influences and have the foundation for innovation.
In addition to my experiences this post was inspired by two recent talks I heard. One was given by Dr. Carol Ann Sharicz on Systems Thinking 101 given at a local chapter ISPI meeting and the other is a TED Talk called Be an Opportunity Maker given by Kare Anderson.